Adam Patel
---
Trainee Solicitor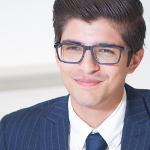 Adam graduated from the University of Huddersfield in July, having completed the Masters of Law and Practice, having received a First Class Law degree and a Distinction in his LPC.
Adam is currently working in Bermans Insolvency and Litigation departments, working on the resolution of commercial disputes and cases involving breach of contract.
Prior to working at Bermans, Adam worked in conveyancing at a Stockport based law firm.
In his final year at University, Adam was a student advisor, at the Huddersfield Legal Advice Clinic, giving members of the public pro-bono advice for cases they may not have been able to pursue.
During the Winter Adam goes snowboarding in the Czech Republic, as he is half Czech and his family have a cabin in the mountains to the north where there's a lot of Winter sports activity.
---
Email: adam.patel@bermans.co.uk
Tel: 0161 827 4608

---