Escalate wins major collaboration award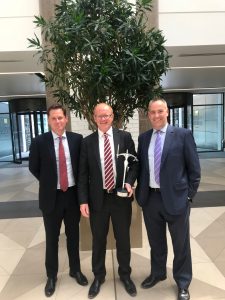 Escalate, the ground-breaking commercial dispute resolution process, has been named 'Best Collaboration Initiative' in The Lawyer Awards 2018.
This is the second national award that Escalate has won in the past 12 months, having previously triumphed in the 'Innovation of the Year' category at the British Accountancy Awards last autumn.  The process was also highly commended at the recent Legal Week Innovation Awards.
Escalate helps SMEs to achieve a prompt settlement to a wide range of commercial disputes, with fixed fees payable only on a successful outcome and no upfront costs.
Nick Harvey, managing director of Escalate, said:
"We're all incredibly proud to have won one of the legal industry's most prestigious awards.  Being recognised by both the legal and accountancy professions is a major achievement, and a reflection of the unique approach that we've developed with our partner firms.

"We had a very clear vision for Escalate from the start: to bring together a team of leading professional services advisors and work in partnership to redesign the commercial dispute resolution process from the client's perspective.

"The fact that we've been honoured by our peers for collaboration and innovation suggests that we've been able to turn our vision into a reality.

"This is backed up by the demand that we're seeing from businesses for the Escalate process – we're already helping clients to recover more than £20 million that is locked up in commercial disputes and, through our ever-expanding network of partners, that number is growing weekly.

"We want to thank all of the Escalate partner firms for their role in winning this award.  We also invite all professional service advisers – whether legal, accounting or business consultants – to join us and help make a difference."