Bermans announce highest turnover in firms' history with revenues of over £5m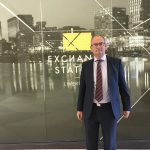 North West law firm Bermans has announced record financial results for the third consecutive year with the firm reporting an increase in turnover from £5.14M to £5.3M for the financial year ending 30th June 2017.
The firm has made a number of key appointments and internal promotions over the past 12 months, as well as securing some significant new clients and completing on some major deals, all of which have contributed to these financial results.
The employment team has continued working with Handelsbanken Northern UK Region and the commercial department has worked with jewellers, Boodles, in providing the terms of business, website user terms and privacy policy for the launch of its new website. The property team has been active in the hotel sector for a number of clients including acting on the acquisition of The Stonecross Manor, Kendal, The Wild Pheasant Hotel, Llangollen and The Regency Hotel, Cheltenham as well as the sale of The Comfort Inn, Middleton.
Senior recruits to the firm include Partners Andrew Koffman to the litigation team and Anton Stirrett to the corporate team. Internally, the firm has promoted Jon Davage to head of corporate and Guy Pattison, to partner in the firm's property team. Fergal O'Cleirigh, head of property and finance director said: "Jon has shown energy and enthusiasm for all aspects of the business and is constantly looking for ways to improve our offering, we look forward to him playing a key role in the development of our Manchester office." In respect of Guy, he added, "Guy has made a significant contribution since joining the firm in 2006, not only in terms of his fee earning but also practice development and in the supervision of others."
Innovation is at the heart of the firm's expansion and success and the firm has recently launched a new suite of innovative funding solutions bespoke to the SME market including products: Capitalise, escalate and vIP.
vIP focuses on helping SMEs exploit the value inherent in their intellectual property, Capitalise is a unique funding aggregator platform and escalate is a disruptive product in the litigation market that affords SMEs a wholly contingent, fully funded and insured option for contested disputes and debts. As Bermans is rooted in the SME space, the products have given the firm a real cutting edge, added value to clients and have generated additional income streams for the firm as well as its referrer network.
Fergal O'Cleirigh says: "It is an exciting time for us at Bermans and we believe we are in strong position to deliver the legal services that our clients require. All departments across the firm have performed very well, with the level of transactional activity being unaffected by Brexit, and I am delighted with our growth and the projections for the next 12 months."
"The wealth of experience and skills injected into the firm through recent promotions and newly appointed team members will be significant in our ongoing commitment in providing excellent service to our clients and also to the continued growth of Bermans. We intend to build on what we have achieved and continue to develop with strategic acquisitions and offerings."
Alex Chapman, partner and head of asset based lending also added:
"Our national reputation in the asset based lending industry continues to thrive illustrated by the fact that firstly we have had a record year and secondly by exciting new client wins. We continue to be a market leader in asset and invoice finance and these financial results demonstrate our position in the industry."