Bermans dispute resolution platform wins prestigious industry award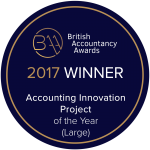 Escalate, Bermans ground-breaking commercial dispute resolution process for SMEs, has been named 'Innovation of the Year' at this year's British Accountancy Awards.
Escalate helps SMEs to achieve a prompt settlement to a wide range of commercial disputes, with fixed fees payable only on a successful outcome and no upfront costs.
Chris Clay, one of the architects of the Escalate process, said:
"Winning one of the most hotly contested categories in our industry's most prestigious awards is a major achievement.

"Escalate was developed to be a game-changer that will transform how commercial disputes are resolved; this award demonstrates that the wider market has taken notice and also realised its potential."
Nick Harvey, partner and head of litigation and dispute resolution at Bermans, said:
"We're extremely proud of what Escalate has achieved since its launch at the start of the year.

"Not only have our peers recognised Escalate's potential to disrupt the commercial dispute resolution market, but we're also seeing considerable demand for the process from SMEs – which is hardly surprising given that the traditional dispute resolution model is broken and heavily stacked against claimants. Pursuing a commercial dispute has tended to be a costly, lengthy and risky undertaking. Escalate has changed that by providing a smarter way for businesses to resolve commercial disputes."
Recent research from the Federation of Small Businesses suggests there were at least 3.4 million commercial disputes involving SMEs between 2010 and 2015. This represents a significant cost and cash flow constraint to the SME sector and can sometimes be the reason why businesses fail.
Nick added: "By removing financial risk, providing transparency on process and pricing, and ensuring that the claimant remains the main beneficiary on settlement, Escalate gives SMEs an opportunity to resolve their disputes in a way that helps rather than hinders their cash flow. That's why we're seeing so much interest from our client base, and that's why we're winning awards."
To enquire about escalate please click here.