Bermans sponsors Blockchain Meetup
On Tuesday 3 September, Bermans sponsored the latest Blockchain Manchester Meetup, hosted by our friends at BlockRocket.
Our Head of Corporate, Jon Davage, was there to give the audience a brief introduction to the services Bermans offers to entrepreneurs in the tech sector. Also present was our Commercial and IP team, who has been a regular attendee at these blockchain meetups.
After the pizza and beer, Gavin Brown, Senior Lecturer in Financial Economics at Manchester Metropolitan University, gave a talk on the potential macroeconomic consequences of Libra, Facebook's proposed cryptocurrency. Libra is backed by global fiat currency, which may provide for greater stability than many cryptocurrencies enjoy.
Given Facebook's huge number of global users, Gavin believes that Libra could become the world's first global corporate non-sovereign currency. However, Gavin pointed out that this could give Facebook the ability to influence the strength of any given country's currency. Could this power be used to further their own corporate ends?
James Morgan from BlockRocket then provided the audience with a more technical view of Libra. James pointed out that, strictly speaking, Libra is neither a blockchain nor a cryptocurrency, and is 100% centralised. However, James believes there will be plenty of opportunity for developers to create spin-offs built on the Libra platform.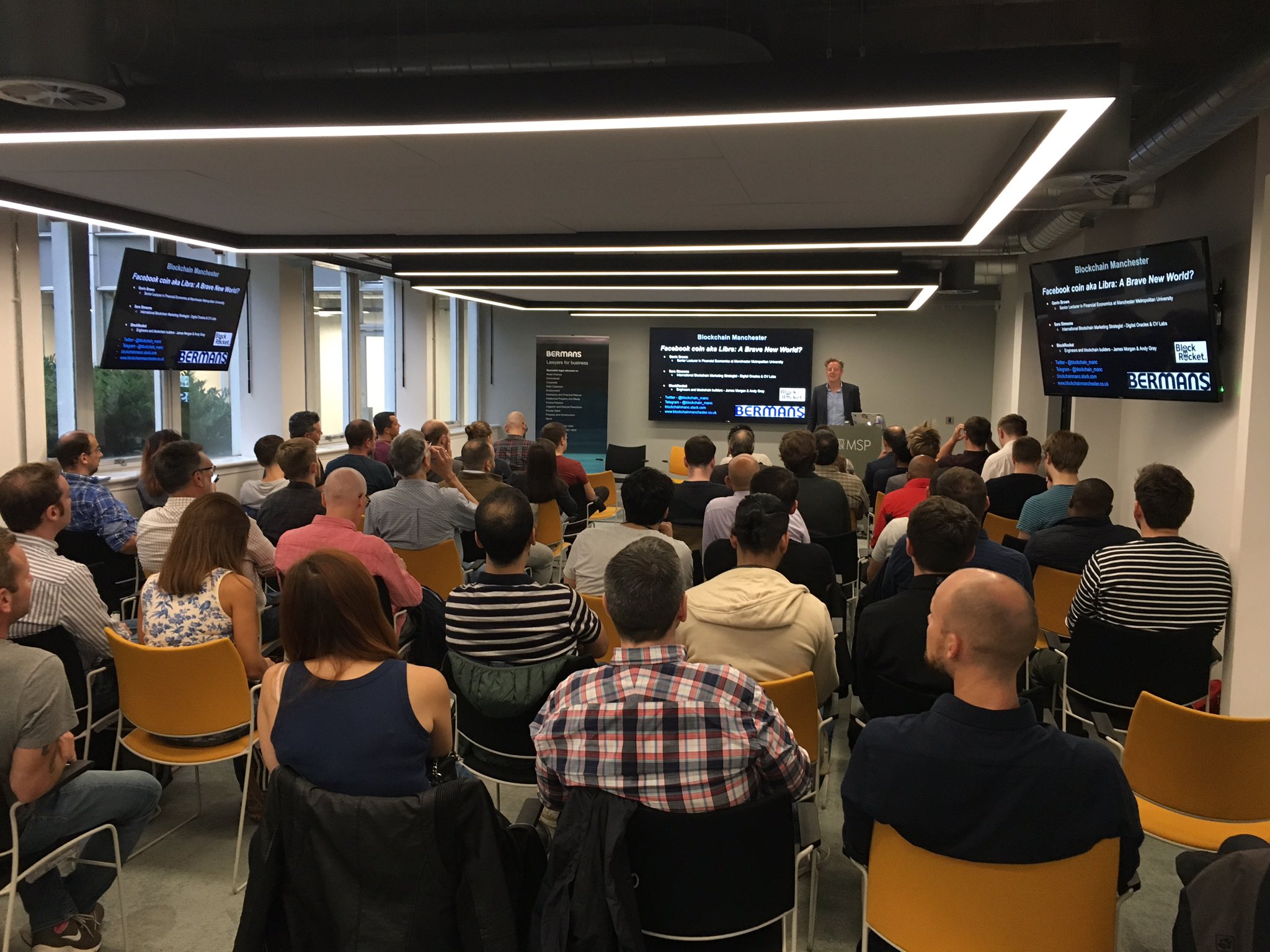 Gavin and James were then joined by Sara Simeone, an International Blockchain Marketing Strategist, for a Q&A session around Libra, led by Andy Gray from BlockRocket.
Opinion was divided amongst attendees as to whether Libra would open the door to the wider adoption of cryptocurrencies and blockchain technology, or whether Libra was in fact at odds with a movement fundamentally based on concepts such as decentralisation and transparency.
Sara stated that Facebook already collects huge amounts of psychographic and demographic data relating to its users and questioned whether users should also provide them with the transactional data they would receive if we made purchases using Libra.
The evening was a great success, and we at Bermans are looking forward to the next event, which will focus on blockchain gaming.
Bermans works with a range of tech companies, from startups to established businesses, and can provide support and advice in all areas including commercial contracts , intellectual property, growth capital and GDPR compliance.
Please contact Stephen Green on 0161 827 4612 or stephen.green@bermans.co.uk for more information.