Client Focus Q&A: Checkd Media
We met up with Jamie Knowlson (right) CEO and Lee Struggles (left), Marketing Director at CheckdMedia for our latest Q&A.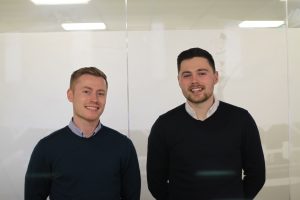 1. What is your business?
CheckdMedia is a privately-owned Social Marketing company, operating from Manchester city centre. We look to help brands engage with our established communities. We have several brands within our portfolio which are active across various social media platforms including Twitter, Facebook and Instagram as well as having their own websites. These are the tools we use to advertise our clients.
2. Which solicitors do you use at Bermans and how do we compare to other firms?
We established the relationship with Bermans back in 2012, from our experience of working with them they have been a great support to the business. We acquired Oddschanger in August this year and Robin Hastings & Jon Davage were extremely helpful in making the process efficient for both parties.
3. What are the biggest challenges you face in growing your business and maintaining profits?
Maintaining the growth we've achieved Y.O.Y. Each year the company has grown 40% Y.O.Y for the past 5 years. Looking ahead, Lee and I are trying to maintain that number whilst bringing in the right team members to contribute to that magic number.
4. Tell us about your typical working day?
Well each day is usually different but I usually get up at 6:30am and get a train in to work. I grab a bowl of porridge and check my emails before 8am. I like to get into the office before anyone else, just for a bit of thinking time and all that. Then my day is usually made up of meetings with the managers or potential new clients, I like to get involved in most areas of the business. Home for 6:30pm then it's either, football training, dinner, pub or gym. Repeat 5 times a week!
5. Highlight for CheckdMedia over the last 12 months?
In the last 12 months we've seen 40% growth Y.O.Y, increased headcount by 42%, made an acquisition and taken on a number of new partners. We are creating a highly motivated and highly skilled team, and are employing people with great CV's who can bring experience and make us a stronger unit. Our staff work extremely hard and we reward them with external events, such as a trip to Chester Race Day or Dublin which we laid on in 2017.
6. What are the business plans for the year ahead?
Grow our communities, stickier content/technology and overseas!
7. Is there a sector or industry that you are strong in or looking to develop?
CheckdMedia is very strong on Social Media, it is one of our key channels, but we also have clear development plans for working in overseas markets. We launched our first white label in 2017 with a company in the Netherlands, which has been quite exciting so if that takes off that will be a focus
8. Do you find social media assists with your business and if so, how?
40% of our business is Social Media driven. The company was founded through Social Media and so it is a great asset to us and what we're doing. I'd encourage all businesses to look at Social Media and see how it can benefit your business goals.
9. If you were chancellor, what single change would you make to help improve the economy and/or your business?
The uncertainty around Brexit is the single biggest "drag" on UK economic growth, it cannot be coincidental that before the Brexit vote, the UK had the fastest growing economy in the EU, and now has the slowest growing economy. The chancellor and the rest of the government should be focusing their efforts on negotiating the right Brexit for the UK, and communicating that to the wider public and business.
10. What are your passions away from business?
We both enjoy a round of golf or game of football. We are keen football fans and go to matches where possible, with one of us being a Liverpool supporter and the other following Sheffield Wednesday. Health and fitness in general is a big part of our lives, but we aren't adverse to an evening in the pub either!
11. Do you have a business tip for our readers?
Work hard, set clear objectives and KPI's, break down the key drivers to achieving those objectives, focus on them and how you will deliver them. Looking after the small items, ensures you don't get distracted by what seems a big and scary objective at the top.

WANT TO BE FEATURED NEXT TIME?
To feature your company in the next issue please contact our Marketing Assistant, Emma Bartram on 0151 224 0506 or email emma.bartram@bermans.co.uk