Client Focus Q&A: Recom Solutions Ltd and Hardcastle & Hogarth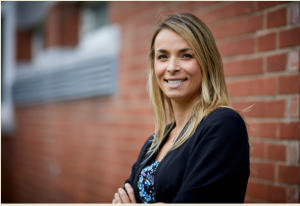 We met up with Gemma Price, Operations Director at Recom Solutions Ltd and Hardcastle & Hogarth (pictured left) for our latest client focus Q&A.
1.What is your business?
Founded in 2012, Recom Solutions is a specialist Construction, Project Management and Consultancy company, which delivers tailored services to a range of clients. Recom acquired Hardcastle and Hogarth in 2016, a Chartered Building Consultancy with over 37 years experience in the Construction industry.
2.Which solicitors do you use at Bermans and how do we compare to other firms?
We have had the pleasure of dealing with several members of the Bermans' team, namely Jon Davage, Robin Hastings, Melanie Morris and Fergal O'Cleirigh. We regularly attend Bermans networking events and at these we have also met members of the wider team. Everyone we meet at Bermans has the same ethos – down-to-earth and customer-focused – and it is evident that the firm employs people based on culture and personality and not just technical ability. For me, this is what sets Bermans apart from other firms.
3.What are the biggest challenges you face in growing your business and maintaining profits?
Being a consultancy whose customers are at the centre of everything we do, it's all about our people. They are our biggest asset and so it is vital that we recruit the right people at the right time, who can carry out the right services for our customers. If you get any of these factors wrong then this upsets the balance, and that is when we experience our biggest challenges. We have worked hard at building a strong, experienced and loyal team, and this is testament to our success as a business.
4.Tell us about your typical working day?
I am very fortunate to have a diverse role, and so every day if different. Being the director responsible for our business operations, my main focus is on leading our team to ensure we are resourced effectively, our priorities are aligned to our customers' needs, and that we have the tools in place to support our team in delivering a consistent service across our projects. I also focus on business development, and spend a lot of time out of the office with our existing customers, ensuring we are delivering and have strong relationships in place. I also attend networking events to develop new contacts and opportunities as part of my business development role.
5.What has been a highlight for your business over the last 12 months?
We have focused on continuing to deliver client-side Project Management services to our existing customers; The University of Manchester and the Manchester University Hospital Trust, and have seen those relationships go from strength to strength over the last 12 months. Acquiring Hardcastle & Hogarth has meant we have been successful in attracting new clients and diversifying our customer base, which includes working on a number of exciting projects for Housing Associations and Supported Living providers on schemes across the North West. We are on site in Liverpool, project-managing a 36-bed student accommodation scheme in Islington for Skyline Developments. We have worked with private clients in the hospitality sector too, developing the feasibility stages of the Anfield Hotel project and have worked with independent retailers to find sites locally, producing development appraisals to support their early business plans.
6.What are your plans for your business for the year ahead?
We are looking to develop our relationships in the higher education sector, as we have a number of large HE clients and want to continue that work across the North West. As well as this, we have won a place on the NHS SBS Framework for the next 4 years, so we will be working proactively with local authorities to promote our services through this, mainly to NHS Trusts, Housing Associations and the Blue Light sector.

7.Is there a sector or industry that you are strong in or looking to develop opportunities?
We recently recruited Sarah Leadbetter from Deloitte as an associate director. Sarah has specialist experience in the energy sector, having worked with the Nuclear Decommissioning Authority on developing a £42m facility. We are therefore developing our business plan to target this sector and build on the experience that Sarah has brought to the team.
8.Do you find social media assists your business and if so, how?
It's important to our business, as it supports our brand development and helps us to engage with our customer base. We have a strong focus on social media, investing heavily with a dedicated internal resource and working with a public relations specialist to support not only this aspect of our strategy but also to ensure we are getting out our messages regarding all business matters, including news about our people, charity and social value activities, and about the projects and clients we are working with.
It's through our work this year that we have been successful in being nominated for three industry awards – news of which we hope to be sharing with you all soon
9.If you were Chancellor, what single change would you make to help improve the economy and/or your business?
Continue to invest in supporting new business growth. We have had some fantastic support from the Business Growth Hub and we continue to utilise this support to help us shape our business, develop strategies and priorities with the support of an external business mentor.
Continue investment into connectivity – transport and digital. Our Manchester office is based in a fantastic location at Salford Quays and yet we are having to invest heavily ourselves to improve the infrastructure to provide us with high-speed broadband, something which I think should be readily available to support businesses. We have a focus on reducing travel where appropriate. Using Skype and other video conferencing solutions is key to this and needs to be supported by high-speed digital connectivity.
Having a Liverpool office means we travel daily between Manchester and Liverpool and across the north west. We regularly encounter congestion problems, so continued investment in our road and rail networks is key to continuing to build the NW economy and supporting business across the region.
10.What are your passions away from business?
I have two young children and I do my best to balance work and home life so I can spend as much time as possible with my family, as it's very important to me. We have a dog, Archie, and so we spend a lot of time exploring our beautiful countryside on long family walks. Travel is also important to me, having spent some time living abroad, and so we plan our holidays carefully to ensure we all get to experience new things but with an emphasis on relaxing and having fun!

11. Do you have any business tips to share with our readers?
Never stand still. Taking time to consider your business decisions is key, but if this takes too long, you can miss the opportunity to lead in your sector or be the first to establish a new opportunity. It is a challenge to constantly maintain momentum and drive whilst growing a small business which needs to remain nimble in an evolving industry. However, it is vital to get this balance right to ensure success.

WANT TO BE FEATURED NEXT TIME?
To feature your company in the next issue please contact our Marketing Assistant, Emma Bartram on 0151 224 0506 or email emma.bartram@bermans.co.uk
.