Escalate wins the grand slam!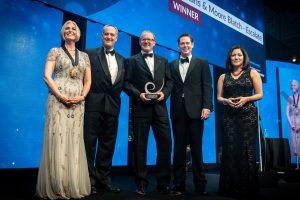 Escalate, the ground-breaking dispute resolution process for SMEs, has won its third national award, completing a unique grand slam of major honours.
Escalate was awarded 'Excellence in Business Development' at the Law Society Excellence Awards on Wednesday 17th October.
This latest recognition completes a unique grand slam of major awards for Escalate, which was also named 'Innovation of the Year' at the British Accountancy Awards and 'Best Collaboration Initiative' at the Lawyer Awards.
Escalate helps SMEs to achieve a prompt settlement to a wide range of commercial disputes, with fixed fees payable only on a successful outcome and no upfront costs.
Nick Harvey, managing director of Escalate, said: "We're all incredibly proud to have been recognised by both the legal and accountancy professions in three major areas: innovation, collaboration and business development.
"Completing this grand slam is a unique achievement – nobody else has won a hattrick of awards across the main professional services disciplines in 12 months – and a reflection of the genuinely pioneering approach that we've developed.
"This is backed up by the demand that we're seeing from businesses for the Escalate process – we're already helping clients to recover more than £40 million that is locked up in commercial disputes and, through our ever-expanding network of partners.
"We want to thank all of the Escalate partner firms for their role in making this historic achievement a reality."
There are plans to take Escalate on a nationwide roadshow in winter 2018 and into 2019, with the first successful event recently being held for around 80 construction professionals at the Greater Manchester Chamber of Commerce.
Learn more about Escalate here.