Major changes to Planning 'use classes' system
In a bid to make it easier to repurpose town centres and high streets across England and Wales, the Government has made major changes to the 'use classes' that businesses must operate within for planning purposes.
New regulations came into force on 1st September 2020 which significantly amended the 1987 Town and Country Planning (Use Classes) Order. A number of classes have been abolished and moved into a more generic Class E.
This means that buildings can be used flexibly by having either a number of different uses taking place concurrently or having different uses at different times of the day. It also means occupants can change the use within the same class without having to apply for planning permission.
Business uses falling within Class A1, A2, A3 and B1 have now moved into the new Class E which is split into 11 parts and covers Commercial, Business and Service. This means for example that a restaurant would also be able to operate as a shop without applying for planning permission or an estate agency could also operate as a travel agency or could change its use to a café without seeking planning permission.
Some categories have been revoked and added to a new 'sui generis' category which is Latin for 'a class of its own' so that use no longer belongs to a specific class. This change could have a big impact on certain businesses such as pubs, takeaways and gyms who will need to apply for planning permission to add additional uses such as incorporating a hairdressing salon within a gym.
A new Class F has also been introduced to cover local community uses.
Most of the changes took effect from 1st September 2020 but some are subject to transitional provisions so it is best to seek advice if you are planning to change/add a different use to your business. There is also some confusion regarding how use class changes affect buildings that are not currently in use. Again, if this applies to you please get in touch.
We provide a summary of changes to Use Classes from 1 September 2020: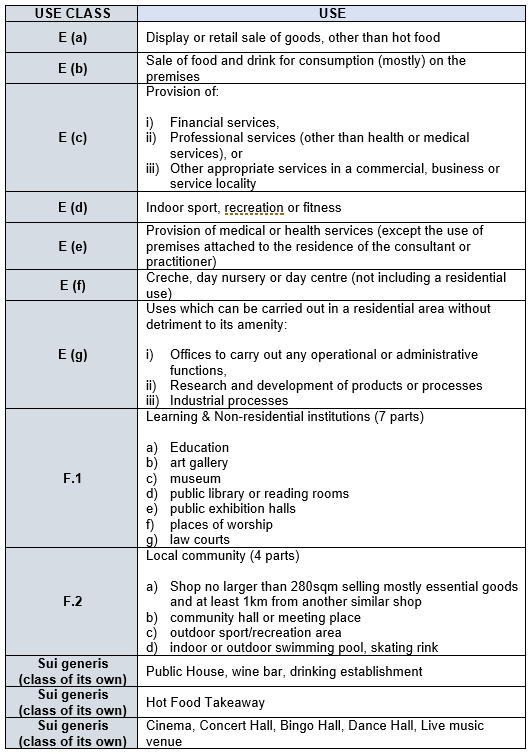 Full details of the legislation can be obtained from the National Archives on behalf of HM Government here 
We also provide a link to the Planning Portal website that has details of all Use Classes and if you have any questions please contact Guy using one of the methods below.
Contact:
Guy Pattison

t: 0151 224 0516
w: Web Profile
ENDS.